Interested in joining TFW Briarcliff?

Request more information!
TFW Briarcliff Manor Coaches
The most highly qualified, fitness coaches in Westchester County are leading our classes at TFW Briarcliff Manor
Coach Susan has been a fitness fanatic her whole life. For the last 24 years, she has dedicated herself to raising her four daughters but found time to follow her passion. She finally put her love of fitness to work and is excited to share her knowledge and expertise with you. She loves motivating her clients and getting others as excited about fitness as she is. Careful, her enthusiasm and optimism are contagious.
Coach Susan's Qualifications
National Academy of Sports Medicine Certified Personal Trainer
TFW Level I & II Certified
Coach Nicole lives and breathes fitness. Her passion for weightlifting developed after hitting a rough point in her horseback riding and realizing the only way to gain back a confident mindset was to focus on muscle building. The more physically strong she got, the more obsessed she became with the gym.
After leading workouts for her college teammates, Nicole chose to make fitness a career so she could continue showing others what they are capable of.
Her ideal client is someone who isn't afraid to step out of their comfort zone in order to reach their goals. When she hears her least-motivated clients say they now look forward to working out, she knows she's done her job.
Coach Nicole's Qualifications
Certified Personal Trainer (NASM)
Certified Weight Loss Specialist (WLS)
Certified Nutrition Coach (CNC)
Group Exercise Instructor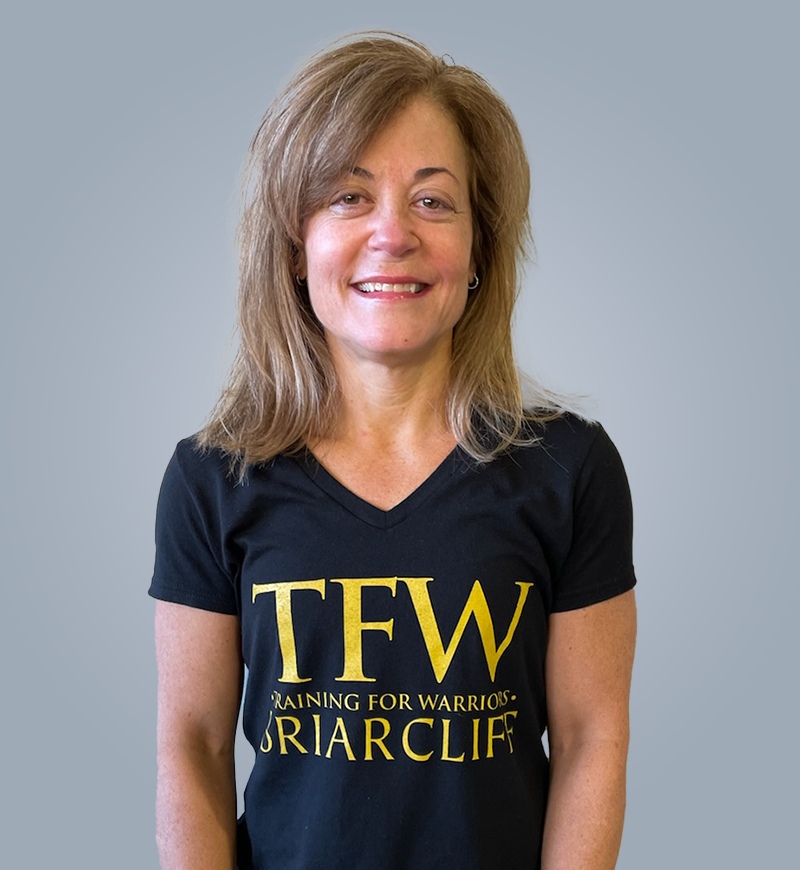 Coach Mary's passion for fitness started after becoming a mom to an amazing young man with Cerebral Palsy. She became the person responsible for coordinating and implementing, physical, occupational and speech and language programs that therapists created for her son. She realized how truly fortunate was to be able to move without limitations. With the encouragement of family and friends, she ran her first marathon at age 42 and completed 4 more marathons and over 25 half-marathons, adding cross fit, strength training and yoga.
After turning 50 she began to focus more on strength training and by accident found Training for Warriors in 2021. After falling in love with their programs as a student, she finished her Personal Training certification (that she had started 30 years ago) and became a coach.
She is proof that it is never too late to take control of your fitness and health through strength training.
Coach Mary's Qualifications
Certified Personal Trainer (NASM)
Coach Meghan holds a Bachelor of Science degree in Fitness Development. She is also a NASM Women's Specialist. She is passionate about empowering women through fitness as she started weight lifting at 15 years old as the only female at times in a predominantly male weight room. Her favorite style of training is training for functionality! Her goal as a trainer is to have any of those she is fortunate to work with see the importance and connection of functional training to their everyday life. She likes to challenge clients to see further than their goals oriented in physical appearance and see it's just as an internal process as it is externally.
Although she spends most of her training time in a gym, She loves indulging in outdoor recreational activities such as kayaking and hiking! She specifically loves hiking National Parks and has a goal to hike every single one in the U.S. in her lifetime! She also enjoys training for + participating in Spartan races which are outdoor based obstacle style races through mountainous terrain.
Fun fact about her is that she grew up watching professional wrestling such as WWE and loves watching MMA!
Coach Meghan's Qualifications
Bachelor of Science in Fitness Development
Women's Fitness Specialist (NASM)
Daniel is a National Academy of Sports Medicine Certified Personal Trainer. He is dedicated to helping clients achieve their goals through proper technique and evidence-based principles. A lifelong hiker and outdoor enthusiast, Daniel initially embraced strength and conditioning protocols as a means to regain fitness and return to his passion after a period of inactivity. He uses this experience to motivate and challenge clients while retaining a sense of empathy and compassion.
Coach Dan's Qualifications
National Academy of Sports Medicine Certified Personal Trainer
Looking for a gym community that motivates and supports you to reach your fitness goals?